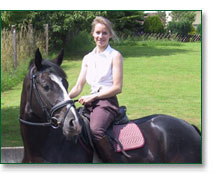 Andrea is a horse lover, veterinarian, breeder, and importer of top frozen semen from German Studs as well as an artist of professional pencil drawings.

Andrea spent 15 years breeding Westphalian horses in Germany before relocating to the United States. After earning a degree in Business, Andrea was educated as a veterinarian at the University of Giessen (Germany). While working on her PhD (Dr. Thesis), she made some contacts to the United States and finaly moved to America. She brought her horses and her love for the breed to share with those Americans who want the best of European Sporthorses. Westphalians For USA LLC has bred, raised, trained and sold outstanding Westphalian Horses in the USA that have been Westphalian Champion at Dressage at Devon, winners at the Regional and Final Championships and competed at the National Championship in Chicago as well as GP horses competing in Wellington.

Westphalians For USA LLC is currently the official representative for the Northrhine Westphalian State Stud which is located in Warendorf, Germany. Frozen semen of the State Stallions and many other TOP German sires are in stock at the farm in South Carolina. We can do breeding consultations and evaluations. Feel free to contact us with your questions.

Jimmy manages the farm & business and takes care of the broodmares and youngsters. His passion is in the farming so that there is always plenty of high quality hay and straw available. Jimmy is responsible for the farm maintenance. You will see him working with his farm equipment, pulling a new fence line, or even building a new barn on our 135 Acre Farm. There is almost nothing he cannot fix or build!

.....................................................