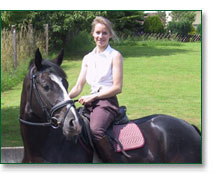 Andrea is a horse lover, veterinarian, breeder, and importer of top frozen semen from German Studs as well as an artist of professional pencil drawings.

Andrea spent 15 years breeding Westphalian horses in Germany before relocating to the United States. After earning a degree in Business, Andrea was educated as a veterinarian at the University of Giessen (Germany). While working on her PhD (Dr. Thesis), she made some contacts to the United States and finaly moved to America. She brought her horses and her love for the breed to share with those Americans who want the best of European Sporthorses. Working closely with German approved trainers and judges, breeders and friends who compete at the upper level shows, she has connections in Europe that allow her to find great horses at reasonable prices. On the other hand Westphalians For USA LLC has bred, raised, trained and sold outstanding Westphalian Horses in the USA that have been Westphalian Champion at Dressage at DEVON, winners at the Regional Championships and an offspring that competed at the National Championship in Chicago!

Westphalians For USA LLC is currently the official representative for the Northrhine Westphalian State Stud (Warendorf) and the Westfälische Pferdestammbuch e.V. that are located in Germany. In addition we will help you with any questions concerning the Westphalian Horse. Andrea & Jimmy are responsible for the broodmare inspection and for registering and branding the Westphalian warmblood foals in the United States and Canada. We can also do breeding consultations and evaluations. Please check the rules for the Westphalian mare & foal inspection and registration. Feel free to contact us with your questions.

Jimmy manages the farm & business and takes care of the broodmares and youngsters, he loves to work with the young stallions. His passion is in the farming so that there is always plenty of high quality hay and straw as well as oats and other grain that he adds to the feeding program.

.....................................................